Registration No.HK-52018
HK-67384
MOHRUS®
PATCH Transdermal analgesic and anti-inflammatory drug

Active ingredient: Ketoprofen 2%
Dosage and Administration: Apply this product to the affected site once a day.
MOHRUS® PATCH is the most prescribed transdermal analgesic anti-inflammatory patch by doctors in Japan1. Each patch contains 2% Ketoprofen. This patch is for the relief of pain and inflammation such as lower back pain, local joint pain and muscle pain etc2,4.
Hisamitsu's MOHRUS® PATCH adopts the new styrene-isoprene-styrene (SIS) technology4, the active ingredient can penetrate the affected area without passing through the gastrointestinal system(Figure1).
MOHRUS® PATCH, with SIS base material characteristics, is designed to be hard to peel off and easy to use due to the stable permeability, high elasticity, and strong adhesion(Figure1).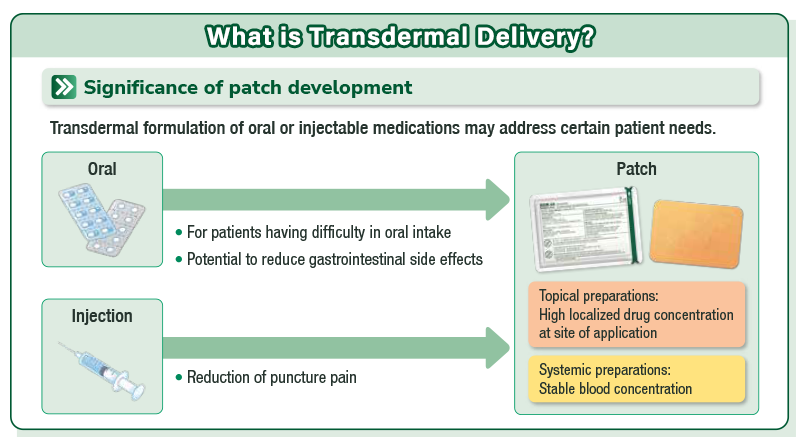 Figure1 Active ingredient of MOHRUS® PATCH penetrates the skin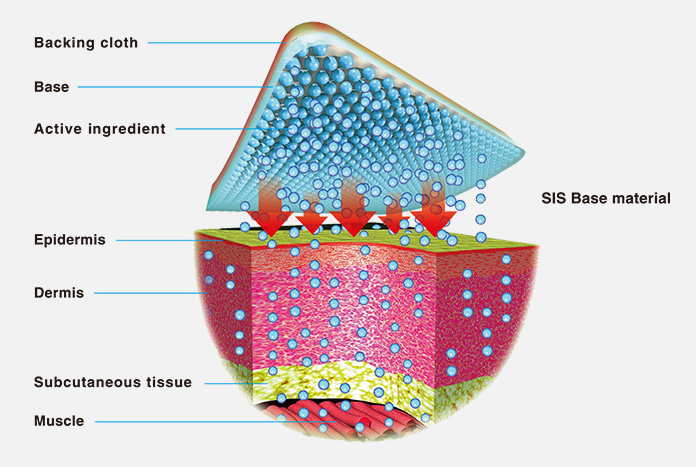 Table1 International Guidelines
How to Use
This guide is for suggestion only. MOHRUS® PATCH can be applied on other affected areas.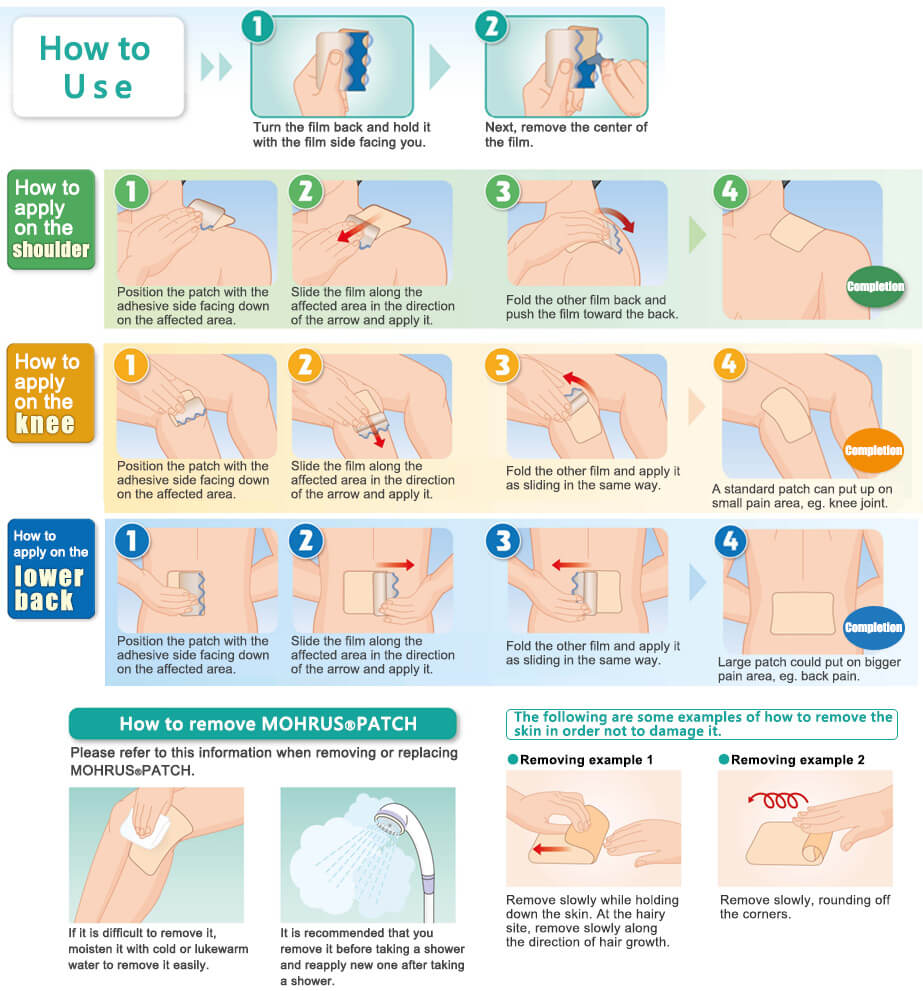 MOHRUS® PATCH is a prescription drug. You are advised to talk to your doctors or pharmacists for more product's full prescribing information.
Please kindly note that do not expose the patch and application site under the sunlight, as it may cause rash.
| | |
| --- | --- |
| Country of Origin | : Japan |
| Manufacturer | : Hisamitsu Pharmaceutical Co., Inc. |
| Contact us | : Hisamitsu Pharmaceutical (Hong Kong) Co., Limited |

TEL :2778-0231
FAX :2778-0283
Watch out for counterfeit products of parallel import products registered in Japan

Counterfeit products of parallel import of MOHRUS® PATCH registered in Japan that don't contain the active ingredient have been found according to the court decision in July 2019.
In Hong Kong and Macau, only the following package of MOHRUS®PATCH is available.
3 major features

Package has the Chinese name of MOHRUS® PATCH which is 慕拉適® 貼藥
Package has the drug registration number of Hong Kong which is HK-52018 or HK-67384.
The Package color is green.

This information is to help ensure our patients' safety and prevent unexpected problems while using MOHRUS® PATCH.
References:
IQVIA 2022  (compare with patches 7cm x 10cm and 10cm x 14cm containing nonsteroidal anti-inflammatory drugs)
MOHRUS® PATCH Product Prescribing Information. Version: September 2020.
MOHRUS® PATCH 40MG Product Prescribing information. Version: March 2022.
Adachi H, et al. Eur Rev Med Pharmacol Sci 2011;15:823-830
Kloppenburg M, Kroon FP, Blanco FJ, et al. 2018 update of the EULAR recommendations for the management of hand osteoarthritis. Ann Rheum Dis. 2019;78(1):16-24. doi:10.1136/annrheumdis-2018-213826
Qaseem A, McLean RM, O'Gurek D, Batur P, Lin K, Kansagara DL; Clinical Guidelines Committee of the American College of Physicians; Commission on Health of the Public and Science of the American Academy of Family Physicians. Nonpharmacologic and Pharmacologic Management of Acute Pain From Non-Low Back, Musculoskeletal Injuries in Adults: A Clinical Guideline From the American College of Physicians and American Academy of Family Physicians. Ann Intern Med. 2020 Nov 3;173(9):739-748. doi: 10.7326/M19-3602. Epub 2020 Aug 18.
Adachi H, et al. Physical characteristics, pharmacological properties and clinical efficacy of the ketoprofen patch: a new patch formulation.
Eur Rev Med Pharmacol Sci 2011;15:823–830.
久光製藥 (香港) 有限公司
Hisamitsu Pharmaceutical (Hong Kong) Co., Limited