Top >
處方產品
> MOHRUS® PATCH

慕拉適®貼藥
經皮止痛消炎劑
香港註冊証號碼HK-52018
MOHRUS® PATCH
Transdermal analgesic and anti-inflammatory drug

Active ingredient : Ketoprofen 2%
慕拉適®貼藥是日本最多醫生選用¹的處方消炎止痛貼藥。每片含有2% Ketoprofen,具有舒緩痛症和炎症的作用,有效緩解腰痛、骨關節痛、肌肉痛等症狀²。
MOHRUS® PATCH is the most prescribed transdermal analgesic anti-inflammatory patch by doctors in Japan¹. Each patch contains 2% Ketoprofen. It is for the relief of pain and inflammation such as lower back pain, local joint pain and muscle pain etc².
久光製藥的慕拉適®貼藥採用全新研發的SIS技術³,藥效持續地釋放,直接滲透患處而無須經腸胃吸收。幕拉適®貼藥採用SIS物料,其設計特性具有穩定的滲透性、優良伸縮性和強化黏貼力,方便日常使用亦不易脫落。
Hisamitsu Pharmaceutical Company's MOHRUS® PATCH adopts the new styrene-isoprene-styrene (SIS) technology³, the medicinal effect can penetrate the affected area without passing through the gastrointestinal system.
MOHRUS® PATCH, with SIS base material characteristics, is designed to be hard to peel off and easy to use due to the stable permeability, high elasticity, and strong adhesion.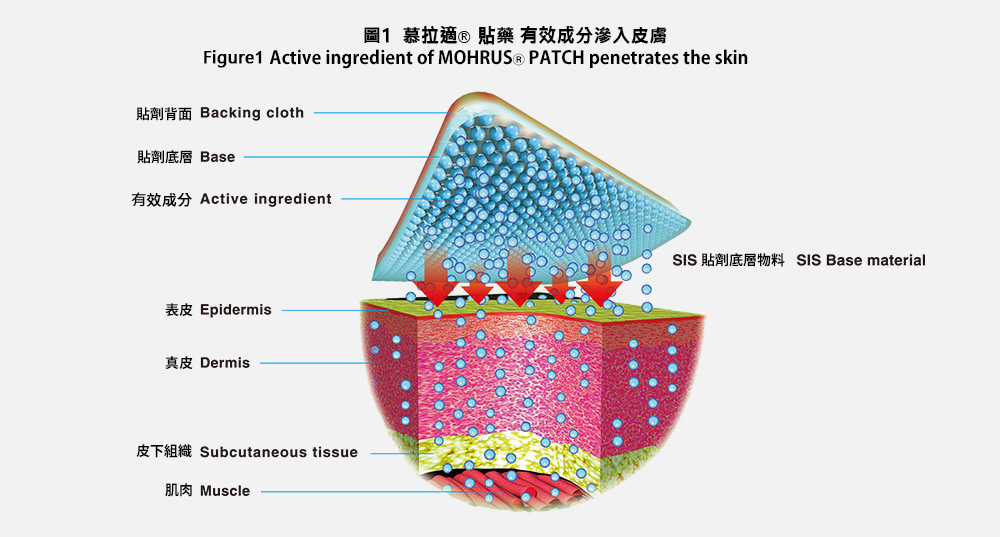 慕拉適®貼藥為處方藥物,建議您與您的醫生或藥劑師聯繫,以獲取更多產品的完整處方信息。
MOHRUS® PATCH is a prescription medicine. You are advised to talk to your doctors or pharmacists for more product's full prescribing information.
請注意,切勿將貼藥和敷貼部位暴露在陽光下,可能引發過敏症狀。
Please kindly note that do not expose the patch and application site under the sunlight, as it may cause allergic symptoms.
References:
IQVIA 2020  (compare with patches 7cm x 10cm containing nonsteroidal anti-inflammatory drugs)
MOHRUS® PATCH package insert (2018 Oct)
Adachi H, et al. Eur Rev Med Pharmacol Sci 2011;15:823-830
久光製藥 (香港) 有限公司
Hisamitsu Pharmaceutical(Hong Kong) Co., Limited